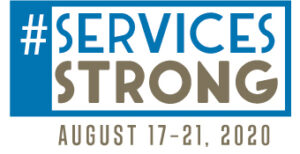 What is ESPA's National Celebrate Services Week?
In 2010, ESPA created National Celebrate Services Day as a way to celebrate and advocate for the services profession, and to give our members a local platform to network, connect and even give back to the community.  Over time, the Day grew and eventually became a Week.
In a typical year, ESPA members would be gathering throughout North America to celebrate the spirit of what this week is all about. With the restrictions and unfortunate impacts that COVID-19 has brought to our members and the industry, this year our Celebration of Services takes on new meaning…. and a new format to help ensure ALL our members can participate.
In Comes our Theme: #ServicesStrong!
This year it's more important than ever to celebrate the collaboration, sharing and support that is so present throughout our ESPA channels – members are helping one another through our web portal Connect, webinars, Leader programs, the new COVID Recovery Roadmap and of course through the personal connections you've made through your membership.
In 2020, ESPA presents a week of daily activities to bring CSMs together
Participate virtually – and we have tips for local engagement and in-person networking along the way. In some cases, this means gathering your team together in advance – virtually or in-person – so we can spotlight YOU during this important week. Read on for all of the details.
Share this event with non-member CSMs in your destination. All services pros are welcome!
---
Get Involved with ESPA's National Celebrate Services Week
Monday, August 17: Member Spotlight Monday
Tuesday, August 18: Think Tank Tuesday
Wednesday, August 19: Do the Services Shuffle!  
Thursday, August 20: Train Together Thursday
Friday, August 21: ESPA Game Night… a Happy Hour!
---
Monday, August 17: Member Spotlight Monday
ESPA will spotlight members throughout the day highlighting inspiring stories and sharing photos of how our members have supported their local community or first responders during COVID.  No activity is too small!  We want to hear all about it.
Here's how to participate:
Tell us how member(s) of your team have supported the community during the Pandemic by submitting your story and photos here anytime leading up to August 17.
Use the hashtag #ServicesStrong on social media and ESPA will share your stories and photos of how Services teams have supported their communities during the Pandemic.
ESPA will share all of the responses and highlight the incredible work our members are doing!
Local networking tip:  In the weeks leading up to Celebrate Services Week, gather safely together to support a charity initiative. Capture the moments in photos and share them with ESPA to be spotlighted on Member Spotlight Monday.
---
Tuesday, August 18: Think Tank Tuesday
Join ESPA as we host our Tuesday virtual think tanks at 1:00pm ET. Members will have a chance to network and collaborate with other CSMs in small groups and discuss topics important to you. See and hear from your peers; share and contribute your perspectives.
Topics will be:
What's something beneficial or valuable that you or your organization has initiated to benefit your clients or organization during the last 4 months?
What's one of the primary challenges you are currently experiencing in your services role, and how are you working through solutions?
Local networking tip:  Continue the conversation locally!   Schedule your own destination's Think Tank following the ESPA session to share what you learned and get your local CSM perspectives.
---
Wednesday, August 19: Do the Services Shuffle!
You hustle each and every day, and lately you've experienced some tough days…now take a fun, much needed break and show us your Services Shuffle!
Go solo or get your local services pros together and record a collaboration on a fun destination-themed dance or song. Don't worry, we don't need to see a full song or dance, just a short clip will do!  We know our ESPA members are some of the most creative people in the biz!  And we can't wait to see YOUR Services Shuffle.
Here's how to participate:
Record your video on phone or desktop.
Share it out on social media using the hashtags #ServicesShuffle and #ServicesStrong – be sure to tag ESPA, too!
ESPA will share your video on our channels so we can all take a break and do the Services Shuffle together!
Local networking tip:   Gather locally or get your destination's CSMs together on Zoom and record your dance.  After the dance, continue the fun with extended networking.
---
Thursday, August 20: Train Together Thursday
ESPA's monthly webinar series continues with Diversity and Inclusion within the Business Events Industry: It's a Movement not a Moment.
This panel will explore how the event services professional can be of service to event organizers while supporting our local minority communities with the goal of creating more diverse and inclusive meetings in our destinations. You will hear from a panel of experts and gain insights and actionable take-aways for making positive changes within your organization.
Join us at 1pm ET for this complimentary webinar!
Local networking tip:  If you are back in the office, consider a Lunch and Learn for the webinar in your conference room.  Collaborate after the program on what you heard and learned.
---
Friday, August 21: ESPA Game Night… a Happy Hour!
End the week with a Virtual Happy Hour! ESPA will be hosting a 1-hour game night for members to come together, have a drink, relax, and kick off the weekend. Registration is required as space will be limited.  We have some fun activities planned including Would You Rather and 2 Truths and a Lie games, and a virtual scavenger hunt so don't miss it. ESPA also invites you to make one of our Cocktails from Headquarters to sip on while connecting with your peers.
Register Today!
 Questions?  Contact ESPA Headquarters at Info@espaonline.org