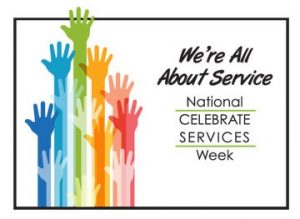 ESPA will be announcing details about the 2020 National Celebrate Services Week soon!
What is ESPA's National Celebrate Services Week?
In 2010, ESPA created National Celebrate Services Day and since then it has evolved to become our annual National Celebrate Services Week! This event was created for 5 great reasons:
#1 – Networking
To create a week aimed at getting CSMs together locally, create camaraderie and be a springboard for future gatherings.
#2 – Celebrate our Profession
To celebrate what we do! Being a key partner with meeting planners for making great meetings happen. That's cause for celebration in and of itself.
#3 – Grow our Ranks
This is a great week to bring new CSMs into the ESPA mix – invite prospects and let them know about ESPA.
#4 – Industry Spotlight
To support ESPA's PR effort to spotlight services – get the word out to the meetings industry media about the important role of Convention Service.
#5 – Give Back
Not only are we celebrating services and the wonderful job we do every day executing great events, but we are also recognizing how many opportunities there are to give back, and how to incorporate them into events in our local communities.
In 2019, 23 awesome ESPA members held events across North America. Check out the list.
---
The next week of Celebration will take place summer 2020.
Getting Involved with ESPA's National Celebrate Services Week is as simple as 1… 2… 3!
Step 1: Host a local celebration or CSR activity.
Step 2: Get Ready and Rock it Out during National Celebrate Services Week!
Step 3: Share How Your Event Went.
---
Step 1: Host a local celebration or CSR activity.
We are looking for you, our wonderful ESPA members across North America to spearhead networking events during this week. For the fourth year we are encouraging our members to have a community service focus for National Celebrate Services Week – network while doing good! However you can host whatever type of event you'd like. ESPA will help give you the tools to plan it…and our members know better than anyone how to host an event.
Hosting is as easy as A… B… C…
A. Set Your Date
You can plan a single day event or do something ongoing during the whole week.
B. Identify a venue or charity to support
Need some ideas? Find out about what type of event you can host here
C. Invite local ESPA members… and prospective members!
To invite your local community, create an invitation and send it to your fellow CSMs. Remember to include the date, time of your event, a location and the theme. We have created a banner to help you create a themed invitation! Just download it and drop it into your email or other documents. Banner coming soon!
The member directory on the ESPA website can be searched by city or state and of course the local CVB will have contact lists for other non-member CSMs who should be invited as future (hopefully) ESPA members!
---
Step 2: Get Ready and Rock it Out during National Celebrate Services Week!
Time to see all your hard work pay off. Be sure to follow these simple steps to have a great National Celebrate Services Week:
Meet and greet your guests…have a welcoming committee.
Pass out our two  ESPA Flyers
Collect names of ALL attendees (name, title, address, email, phone) so that they can be provided to ESPA. This is important, especially for prospective members that attend – ESPA wants to recruit them!
Take pictures!
And of course have fun!
---
Step 3: Share How Your Event Went!
Once your event is over make a note to follow up with your attendees– it is a great way to open the door to more networking with those who know your profession best, meet local colleagues and make new friends!
Every year ESPA also highlights locations that exemplified giving back to the community and have provided Headquarters their photos and attendee list with the top location receiving a complimentary registration to ESPA's Annual Conference.
Send your photos and attendee list to info@espaonline.org to be eligible for this year's complimentary conference registration!
---
Check out our 2019 List of Events
The Arlington CVB is hosting an afternoon team building event, including celebrating the World of Wonderful that event professionals create for their clients. Guests were asked to participate in the school supply drive that the ACVB is conducting to benefit Mission Arlington. The group will enjoy some light bites, beverages at a new hip spot while working on a custom piece to take home commemorating the occasion.
The David L. Lawrence Convention Center is donating items for Dress for Success. The team will be attending a reception and then participating in a painting party provided by Visit Pittsburgh (Paint Monkey).
Destination Cleveland invited peers from their three convention facilities and downtown hotels to 'get outside of their four walls' and learn more about their city and what their/our customers and attendees experience once outside of their building. They are taking them on a Trolley Tour of CLE. In addition, they partnered with Shoes and Clothes for Kids (SC4K) and they are concluding the afternoon with a happy hour to 'Celebrate Service!
The Detroit Metro CVB will host a luncheon – this is a perfect opportunity to network and get to know each other including several new members of the team.
Discover The Palm Beaches is supporting St. George's Center is a safe place for the homeless and less fortunate to come to eat and rest. They will be collecting clothing, hygiene items, and back to school items for the center. On Friday Aug. 2nd the team will deliver all items, and will help sort them, as well as serve lunch to all that visit the center.
The Fairmont Palliser is supporting the OH Ranch Education Program. Funds raised on July 30th (through a bake sale and auction) will be put towards the education program for local elementary school children participating.
Greater Lansing CVB will be visiting the Greater Lansing Food Bank to sort food and then will be celebrating the hard working CSMs at lunch at one of Lansing's oldest and favorite places, DeLuca's Restaurant and Pizzeria.
The Greater Raleigh CVB will host an event at The Pour House Music Hall. The event aims to applaud our local event service managers' commitment to servicing excellent meetings and events. They will also be hosting a school supply drive to benefit Wake County Passage Home's Annual Bookbag Drive.
Meet Minneapolis will host a breakfast for services partners and celebrate the hard work they have done. They will also be making tie-blankets to donate to House of Charity's downtown shelter location.
NYC & Company is hosting our annual Celebrate Services event downtown on Stone Street! We will welcome our hotel services' partners for a late afternoon networking reception featuring NYC themed trivia followed by a private, interactive experience at The Cauldron!
The Oklahoma City CVB will celebrate their services teams by delivering cookies to each hotel. They are also holding a luncheon honoring service professionals at a very unique location and will accept donations for the Infant Crisis Services organization that helps babies, toddlers, and families in times of crisis. They will then close out the week with a 2-hour community service activity at the Infant Crisis Services location.
Richmond Region Tourism is gathering event service professionals from across the region for an evening of networking and community service. Services partners will have the opportunity to connect with others in the industry while also donating school supplies to a local elementary school.
Visit Aurora has scheduled a full week of volunteer opportunities that their staff and partners will participate in throughout the City of Aurora, including Brent's Place, Ronald McDonald House, Downtown Aurora Visual Arts, Colorado Freedom Memorial, and Cherry Creek State Park.
The team at Visit Austin is hosting a day of networking, giving back at the Central Texas Food Bank and karting fun at Circuit of The Americas. This includes lunch with a panel discussion about the best practices for hosting events in Austin.  They are also hosting a school supply drive for the Welman Project.
In addition to a week of giving, Visit Franklin will award its inaugural "Best in Service" Award, recognizing a hospitality service professional for exceptional service. Hospitality partners will also donate items to Deer Run Retreat. The Visit Franklin staff will also celebrate the service professionals throughout the week with 4 different events including providing breakfast to hotel service teams, and to local Law Enforcement.
Visit Frisco is partnering with Frisco Family Services and local hotels to make sure students head back to school with the proper tools for success. Each hotel and Visit Frisco Team Member is sponsoring a student, providing them with a new back to school outfit and shoes.  Frisco event service professionals will gather on the stage of the Black Box Theatre for an afternoon of inspiration and innovation, taking part in activities developed by the Frisco Improv Players.
Visit Houston donated toiletries to the local charity, "House of Tiny Treasurers" and hosted a soiree for colleagues where they enjoyed food, fun and games.
Visit Indy will partner with Wheeler Mission by donating directly to their organization with items needed for women and children. They are also having a baseball outing on July 29 to celebrate services.
Visit KC will enlist the help of the services community to collect reading material and possibly recruit volunteer readers for Lead to Read KC.
Visit Spokane CSMs gathered together to garb ice cream on a hot summer day.
Visit Tampa Bay and the Tampa Convention Center have combined efforts to donate the afternoon sorting can goods for Feeding Tampa Bay. A reception will be held at the Tampa Bay Visitors Center honoring the "CSM of the Year" from each venue with customized awards.