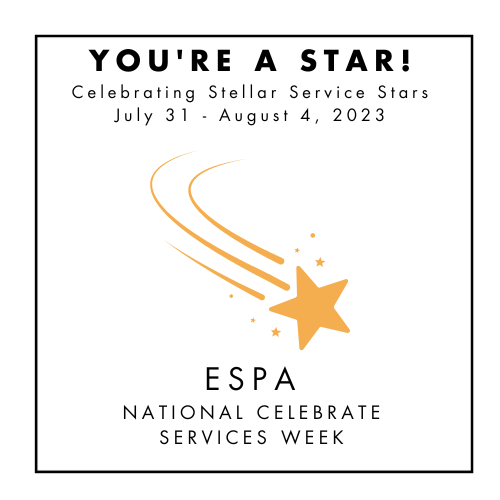 National Celebrate Services Week is coming soon!
What is ESPA's National Celebrate Services Week?
In 2010, ESPA created National Celebrate Services Day as a way to celebrate the role of the event service professional, to advocate for the event services profession, and to give our members a local networking opportunity with fellow services peers. Over time, the Day grew and eventually became a Week.
You're a Star! Celebrating Stellar Service Stars
National Celebrate Services Week 2023
July 31 – August 4, 2023
We are looking for you, our ESPA members across North America to spearhead networking events during the week of July 31 – August 4! We will publicize these events and showcase ESPA's Event Services network across the country.
Locally, this gives you an opportunity to put a spotlight on the Event Services team in your own destination. Take pictures, share your event on social media, invite your peers, managers, and executives, and let everyone know what makes your team shine!
This year's event theme is You're a Star! Because all event service pros are stars! As the hero that makes all the details come together to make events truly shine, you are stars for your destinations, hotels and centers. To match our theme this year, consider this for your events and gatherings … red carpet, popcorn, movie night, achievement awards, karaoke performances & Hollywood themes. Have fun with it! We can't wait to see the photos.
You can host whatever type of event you'd like but if you're looking for some ideas to help inspire you, here are few to get you started:
Destination networking event

Simple networking however you want to do it! Invite local Event Professionals and explore your city! Visit those places you always mean to but never have time to or try that new restaurant that just opened. No networking event is too big or too small! Can't get out and about? Have a networking event at a famous eatery or in your venue catered in with local delicacies.

Back in business – Education or Training Lunch & Learn

Plan a lunch and learn with fellow members and city partners, bring in food from a local partner, and watch a recent webinar to learn about topics impacting the service industry, followed by a question-and-answer session.

Local F&B events

Give back to local partners and plan something to give them a chance to show off their current offerings.

A health and wellbeing event

Come together with staff and partners and take some time to focus on your wellbeing. Organize a walk to see the sights of the city, rent bikes, or host a yoga/meditation class.

Members may also want to do a community service activity together. There are many organizations in need, and this can be a uniting effort for the services people in your community. Celebrate your hometown by giving back.
Don't forget to invite non-member event service professionals in your destination. All services pros are welcome!
Once you have set up your event let ESPA Headquarters know about it. Complete our form and Headquarters will spread the word about your event to our members. Remember no event is too small! We want to know how you are celebrating your local event professionals.
On the day of your event
Time to see all your hard work pay off. Be sure to follow these simple steps to have a great National Celebrate Services Week:
Meet and greet your guests…have a welcoming committee.
Pass out ESPA Flyers
Collect names of ALL attendees (name, title, address, email, phone) so that they can be provided to ESPA. This is important, especially for prospective members that attend – ESPA wants to recruit them!
Take pictures!
And of course, have fun!
Unable to host an event this week?
ESPA encourages you to host an event close to National Celebrate Services Week if July 31 – August 4 does not work for your team. ESPA will still spread the word about your event to our members!
Share How Your Event Went!
Once your event is over, make a note to follow up with your attendees– it is a great way to open the door to more networking with those who know your profession best, meet local colleagues and make new friends!
Every year ESPA highlights events held by our members locations on social media, our website and in event*ure. Send your photos and attendee list to info@espaonline.org to be included!
 Questions?  Contact ESPA Headquarters at Info@espaonline.org