ESPA and Diversity, Equity & Inclusion
ESPA is dedicated to developing best practices and tools to support diversity, equity, and inclusion for our membership which creates opportunities to connect to the culture of our communities.
We are committed to being a thought leader in the hospitality industry on the strategic and creative benefits of an intentional and meaningful DEI initiative that spans education, community outreach, marketing, and recruitment efforts.
ESPA Diversity, Equity & Inclusion Committee
In the Summer of 2021, the ESPA DEI task force was convened. Led by a statement of purpose, a focused goal, and the associated activities to support that goal, a team of 15 ESPA members set out to research, discuss, and assemble tangible tools, e.g., best practices, checklists, and resources to help ESPA members chart a course and refine their processes around DEI. In 2023, the Task Force transitioned to a long-standing Committee.
Committee Purpose:
ESPA is a leading association which advocates for the role and impact Event Service Professionals have within the Tourism and Hospitality industry. We are the voice of the Event Service profession and create opportunities that educate, engage, elevate, and empower Event Service Professionals. Recognizing the benefits that diversity and inclusion bring to our industry, the ESPA DEI Task Force—through both intentional and meaningful strategies—will help to foster diversity and inclusion in the ESPA community; drive members' cultural and inclusivity awareness, thereby benefitting the industry; and create a guide to an inclusive path forward with collaboration, understanding and growth.
Committee Goals:
Through education initiatives:
Drive member cultural and inclusivity awareness, the benefits of which will extend to the events industry.
Help members to understand the power Event Service Professionals have to impact DEI in their local communities.
Diversity, Equity & Inclusion – A Guide for Event Service Professionals
This ESPA Guide, published in 2023, informs Event Service Professionals of the significance and impact of diversity initiatives for their venues and destinations, and provides guidance on the three primary pillars of DEI—Education, Supplier Diversity and Inclusive Marketing.
Members – Log in to My ESPA Portal to directly download the Guide.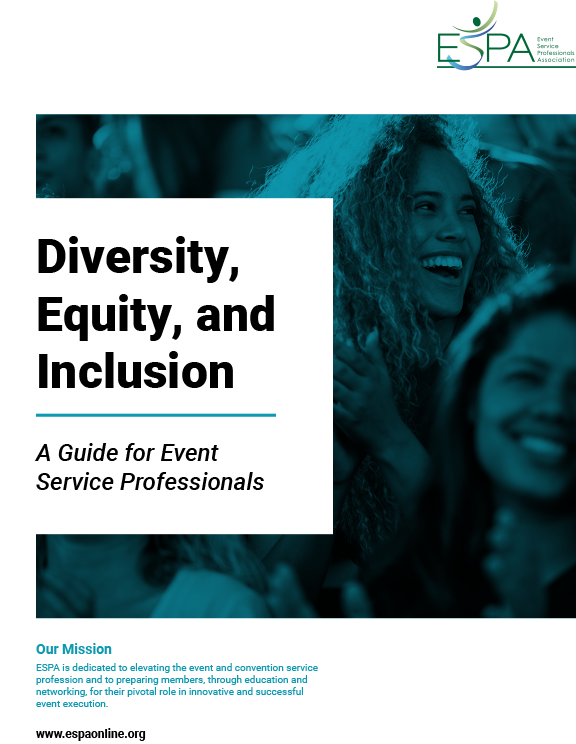 Please visit again!  The DEI Committee will be adding more information and resources to this page as its work evolves.