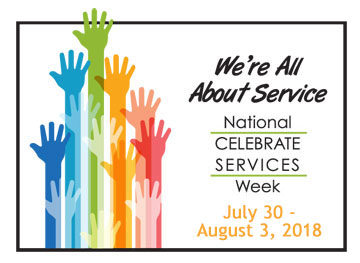 What is ESPA's National Celebrate Services Week?
in 2010, ESPA created National Celebrate Services Day and since then it has evolved to become our annual National Celebrate Services Week! This event was created for 5 great reasons:
#1 – Networking
To create a week aimed at getting CSMs together locally, create camaraderie and be a springboard for future gatherings.
#2 – Celebrate our Profession
To celebrate what we do! Being a key partner with meeting planners for making great meetings happen. That's cause for celebration in and of itself.
#3 – Grow our Ranks
This is a great week to bring new CSMs into the ESPA mix – invite prospects and let them know about ESPA.
#4 – Industry Spotlight
To support ESPA's PR effort to spotlight services – get the word out to the meetings industry media about the important role of Convention Service.
#5 – Give Back
Not only are we celebrating services and the wonderful job we do every day executing great events, but we are also recognizing how many opportunities there are to give back, and how to incorporate them into events in our local communities.
Last year 33 awesome ESPA members held events across North America. Check out the list.
---
The next week of Celebration will take place July 30-August 3, 2018.
Getting Involved with ESPA's National Celebrate Services Week is as simple as 1… 2… 3!
Step 1: Host a local celebration or CSR activity.
Step 2: Get Ready and Rock it Out during National Celebrate Services Week from July 30 to August 3! 
Step 3: Share How Your Event Went.
---
Step 1: Host a local celebration or CSR activity.
We are looking for you, our wonderful ESPA members across North America to spearhead networking events during this week. For the fourth year we are encouraging our members to have a community service focus for National Celebrate Services Week – network while doing good! However you can host whatever type of event you'd like. ESPA will help give you the tools to plan it…and our members know better than anyone how to host an event.
Hosting is as easy as A… B… C…
A. Set Your Date
You can plan a single day event or do something ongoing during the whole week.
B. Identify a venue or charity to support
Need some ideas? Find out about what type of event you can host here
C. Invite local ESPA members… and prospective members!
To invite your local community, create an invitation and send it to your fellow CSMs. Remember to include the date, time of your event, a location and the theme. We have created a banner to help you create a themed invitation! Just download it and drop it into your email or other documents. Download Banner
The member directory on the ESPA website can be searched by city or state and of course the local CVB will have contact lists for other non-member CSMs who should be invited as future (hopefully) ESPA members!
Once you have set up your event don't forget to let ESPA Headquarters know about it. Complete our event form and Headquarters will spread the word about your event to our members. Make sure to check back here to see what your fellow CSMs have planned for NCSW 2018!
---
Step 2: Get Ready and Rock it Out during National Celebrate Services Week from July 30 to August 3!
Time to see all your hard work pay off. Be sure to follow these simple steps to have a great National Celebrate Services Week:
Meet and greet your guests…have a welcoming committee.
Pass out ESPA Flyers
Collect names of ALL attendees (name, title, address, email, phone) so that they can be provided to ESPA. This is important, especially for prospective members that attend – ESPA wants to recruit them!
Take pictures!
And of course have fun!
ESPA will award the host with the most creative or unique event with a complimentary registration to the 2019 Annual Conference in Charlotte. The recipient will be selected based on a combination of theme, promotion, unique ideas incorporated in the event, and event follow-up with Headquarters.
---
Step 3: Share How Your Event Went!
Once your event is over make a note to follow up with your attendees– it is a great way to open the door to more networking with those who know your profession best, meet local colleagues and make new friends!
Every year ESPA also highlights locations that exemplified giving back to the community and have provided Headquarters their photos and attendee list with the top location receiving a complimentary registration to ESPA's Annual Conference.
Send your photos and attendee list to info@espaonline.org to be eligible for this year's complimentary conference registration!
---
Check out our 2017 List of Events
Arlington Convention & Visitors Bureau hosted a Happy Hour at a local craft brewery, themed to be like a mini-FAM. They also held a school supplies drive for Mission Arlington, a local outreach organization.
Various ESPA members from Charlotte including Visit Charlotte, Cabarrus County CVB, Charlotte Convention Center, Westin Charlotte Hotel and the Hilton Charlotte Center City ventured to the Hospitality House of Charlotte (HHOC) to provide a meal for the guests currently at the house.
Visit Dallas and the Sheraton Dallas held a Celebrate Services networking event at the Sheraton Dallas and also partnered with The Bridge to collect supplies for welcome baskets that they provide people moving into new homes.
Detroit Metro CVB hosted a networking event and as a part of giving back donated items to The Freedom House, a local charity that provides a variety of services and support to refugees from around the world.
Destination Cleveland is known as a foodie town and thought they would stick with that theme as they prepared hot meals and lunch bags that were distributed to local meal sites and youth centers.
Experience Grand Rapids held a lunch to celebrate service and continue to build the network of Event Service Professionals in Grand Rapids!
The Fairmont Palliser's Conference Services and Catering Team recognized National Celebrate Services Week this year by volunteering at Calgary's Ronald MacDonald House. They held a BBQ highlighting Canada's 150th Birthday for the families staying at the house.
Fort Worth CVB held a golf event and collected small toiletries from partners to donate to local homeless shelters
The Greater Palm Springs CVB not only partnered with FIND Food Bank Volunteer Hub to pack and sort produce and dry goods but also hosted a local networking reception.
Greater Raleigh CVB encouraged their partners to "give back" by doing something nice for first responders in the community. The CVB team hosted snack breaks at Raleigh PD and EMS downtown stations, then invited partner peers for a fun recognition and thank you breakfast and mimosa toast.
Louisville CVB invited their convention services partners to join them at the local history museum for lunch, participate in a community service project with Blessings in a Backpack to stock local schools' food pantries, and then view a Hunger Games exhibit on display (The movie's star, Jennifer Lawrence, is from Louisville!).
Meet Minneapolis held a breakfast at one of their local establishments, then partnered with D.I.D. (Downtown Improvement District) ambassadors to work alongside of them cleaning up the downtown and assisting visitors with questions, etc.
NYC & Company hosted hotel and convention center services teams for an afternoon appreciation reception at the Summer Garden at Rockefeller Center and collected hotel toiletries and amenities to be donated to a local NYC organization.
Oklahoma City CVB made the celebration for Celebrate Services Week just that, a week-long party including delivering cookies to services colleagues and support and donate to Positive Tomorrow's, Oklahoma City's only school specifically serving homeless children, and helping homeless families make the changes they need to stabilize their lives and will end the week with a lunch celebration!
The Omni Austin Hotel Downtown gave out several treats throughout the week and celebrated on Friday by participating in Visit Austin's scavenger hunt.
Richmond Region Tourism's Inaugural Celebrate Services Week Social was held at Hardywood Park Craft Brewery and they asked attendees to bring school supplies that will be donated to Richmond Public Schools. They were joined by ESPA member the Jefferson Hotel.
The Tampa Convention Center and Visit Tampa Bay awarded 6 local CSM's with CSM of the year awards and partnered to volunteer at the Ronald McDonald House in preparing dinner for the residents.
In honor of Celebrate Services week, Travel Portland's summer meetup doubled as a school supply drive for Schoolhouse Supplies, an award-winning nonprofit that supports public education in Portland by giving students and teachers free classroom supplies.
Visit Albuquerque collected hygiene products for TenderLove Community Center & honored two Albuquerque CSM's that have provided outstanding customer service this past year.
Visit Anaheim's team supported Caterina's Club by volunteering to serve at a local homeless shelter.
Visit Austin worked in conjunction with the local United Way Chapter – Hands on Central Texas. They held a networking breakfast then headed out to a scavenger hunt to test strategic talents and discover new things about Austin and also learn a little about the needs of our community and what United Way doing to make a positive change. They were joined by ESPA member the Omni Austin Hotel Downtown.
Visit Denver hosted their 3rd Annual Wish for Wheels event, building bikes for underprivileged children and delivering them to children at the local YMCA, followed by a reception at the Renaissance Hotel.
Visit Houston and other locals in the hospitality community made blankets with the help of My Very Own Blanket and donated them to DePelchin Children's Center.
Visit Indy visited each of the local hotels to take them celebratory treats in honor of Celebrate Services week.
Visit KC hosted a toy drive for a local charity called Children's Place KC and each person that donates a toy got a sweet treat, along with passes to attend the "Toys and Miniatures Museum" attraction.
Visit OKC collected items for Positive Tomorrow as well as delivered cookies to their hotel partners and ended the week with lunch at a new local restaurant in town!
Visit Omaha assisted with preparing sandwiches, making sack lunches and assisting with food preparations at the Open Door Mission.
Visit San Antonio hosted an appreciation breakfast for service managers from partner hotels, venues, the convention center and more!
Visit Spokane hosted lunch at a local restaurant for the local CSMs in the city.
Westin Indianapolis's sales team brought their CSMs breakfast and the team went out to St. Elmo's Steakhouse on Thursday afternoon!
The Westin Peachtree Plaza gave out several treats throughout the week and celebrated on Friday afternoon with Foot Massages for the whole team!
VisitNorfolk prepared a goodie basket with locally made popcorn, handmade local chocolates, local bruschetta dip and crackers, a really pretty glass water bottle for each of the convention service managers.
ESPA Headquarters/CMA Association Management collected pet supplies for local animal shelter Easel Animal Rescue League.