How Do You Measure Event Services Success?
Events are expensive, time-consuming and full of to-dos. But your services team makes coordinating event details seem easy and you do it without breaking a sweat.  From corporate meetings and events to conferences and workshops—you know the small things do matter. Your energy is contagious. You thrive in a fast-paced setting. Unexpected problems are not an issue for you—you solve them with creativity and ease.
But quantifying the value of event services is difficult.  It sometimes seems like flawless events get less attention than those plagued by service issues. And can you really measure the value of making people "happy?"
The answer is a resounding YES.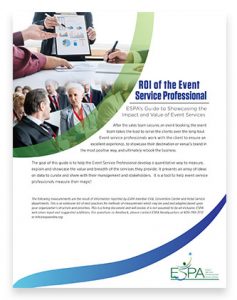 It's what led the Event Service Professionals Association (ESPA) to launch the first-of-its-kind industry guide, ROI of the Event Service Professional: ESPA's Guide to Showcasing the Impact and Value of Event Service. The free online resource is designed to showcase your expertise and help you articulate the value of your profession in a quantitative way.
ESPA's guide puts methods of measurement behind the hard work of event service professionals—providing a full list of ideas for curating data and analyzing metrics to raise awareness about the important role a services team plays. It also reinforces the importance of the post-event survey and the role it plays to help improve and rebook business.
"Research has shown that event service professionals have a significant impact on event success, but historically most of us struggled with how to show and prove that value," said Julie Brakenbury, director of services at Visit Raleigh and a member of the ESPA Board.
"Services is such a critical component of the events industry," Brakenbury continued. "Organizations, venues, hotels all spend significant money marketing and selling to book events. If those events aren't serviced well, attendees don't return and we spend even more money to market, sell and book more events. But if events are serviced well, groups and their attendees come back again and again. Showing the value of services so that we can have appropriate funding and resources in place is the smartest money our organizations can spend."
ESPA's guide offers suggestions for measuring ROI depending on whether the event service professional works for a Convention & Visitors' Bureau (CVB) or Convention Center / Hotel. For example:
CVB employees can use a myriad of measurements ranging from the post-event survey, repeat bookings through the Services team, measuring the economic impact of serviced events, staffing services provided, collecting testimonials and tracking hits to business partner websites.
Convention center and hotel employees might similarly use client surveys, but also total room nights, contracted vs. actual food and beverage consumption, referrals from existing and repeat groups, ancillary revenue (audio visual, for example) and effective management of expense budgets.
Members of ESPA had been discussing for years the dilemma of how to showcase the value of event service professionals. Talk soon turned to action.
"Other organizations have studied event trends, ROI, metrics for event performance and event sales performance, but no other organization has created and documented metrics for event services performance," Brakenbury said. "If it weren't for ESPA, it would not get done. It's one of the best advocacy efforts we could accomplish for our profession."
For 30 years, ESPA has been the only association and voice representing event service professionals from CVBs, hotels and convention centers across North America. The organization is dedicated to elevating the event and convention services profession and to preparing members, through education and networking, for their pivotal role in innovative and successful event execution.
For more information about ESPA, visit espaonline.org.