ESPA Scholarships
ESPA gives opportunities for deserving individuals to earn a scholarship to attend its Annual Conference – a great educational and networking opportunity.
---
For Recent CMP Designates: Annual William H. Just, CAE, CMP Memorial Award
For Students: The Donald S. Freeman Jr. ESPA Conference Scholarship
Annual William H. Just, CAE, CMP Memorial Award Recent CMP recipients – Apply to attend the ESPA Annual Conference on a Scholarship!
Have you earned your CMP Designation within the last five years?
The Annual William H. Just CAE, CMP Memorial Award recognizes an ESPA member who has earned their CMP certification within the last five years and remains in good standing with the association. The award was established in honor of the late William H. Just, CAE, CMP who founded ACOM (now ESPA) in 1988. Just also played a key role in the establishment of the CMP program. Bill Just embodied valuable attributes including being a visionary, incorporating creativity, professionalism and leadership into his endeavors. This award recognizes these qualities in its recipients.
ESPA members can submit an application which includes an essay on how the CMP designation has been beneficial to them, why they decided to receive this certification and details on their industry and community involvement. The winner will receive a complimentary registration to the next ESPA Annual Conference which helps to support their CMP continuing education status.
Congratulations to 2019 Bill Just Memorial Award Recipient, DeShawn Fitzpatrick, CMP, Client Services Manager, Visit Houston.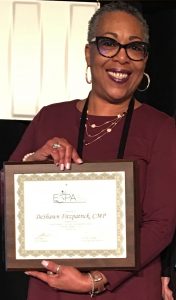 ---
The Donald S. Freeman Jr. ESPA Conference Scholarship An opportunity for students of the hospitality industry
The Event Service Professionals Association (ESPA) is accepting applications for a student to attend its Annual Conference on a scholarship reward.
This scholarship experience will give students great development opportunities:
Sit in on events industry educational sessions led by meeting industry experts
Act as ESPA's roving reporter – gathering feedback from Conference attendees – for a follow up article
Networking opportunities with those starting out in the field (just like you!)
Find out how they got their start
Ask what steps they took to get in their current position
Attendees will have an open forum to discuss current trends within the hospitality industry
Mentoring by scholarship sponsor, Freeman, before, during and after the Conference
Chance to speak one-on-one with seasoned professionals and build contacts
Participation in a professional industry event is a great resume builder, as is being the recipient of this great recognition!
Congratulations to our 2019 Donald S. Freeman Jr. Conference Scholarship Winner, Sarah Tarlowski, Senior at University of Central Florida – Rosen College in Orlando, FL